October 21st, 2017 | Annual Hoe Down
August 31, 2016
SAVE THE DATE FOR THE 2017 HOE DOWN & AUCTION – OCTOBER 21, 2017
---
Thank you to everyone came out for our Blue Ribbon event! This year's Annual Hoe Down celebrated The Barn's 10th Birthday and featured live music by The Summit Hill Bluegrass Band, catering by Northbrook Marketplace, a silent auction, raffle, scavenger hunt, dancing and much more!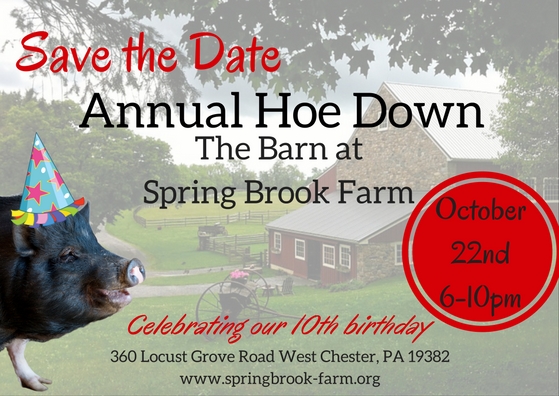 This event is one of a kind in Chester County and supports a great cause. It provides over 1/3 of the annual budget for The Barn, ensuring that area children with disabilities are able to participate in animal-assisted activities.
Couldn't attend but would like to make a donation? Then, click here and your generosity will help us fulfill our mission now and for years to come.
Thank you very much to our 2016 Sponsors!
PLATINUM
Ms. Carol Atterbury
Ms. Mary Beth Drobish
Mr. James and Mrs. Ann Lim
Mr. and Mrs. Robert D. McNeil
GOLD
Mr. and Mrs. Francis Abbott, Jr.
Ms. Caroline Moran
SILVER
AmeriDrill, Inc.
AquaAmerica
Cherry Knoll Farm
Ms. Barbara Jordan
Mr. Robert and Mrs. Betsy Legnini
Buckley, Brion, McGuirre & Morris, LLP
Exelon Corporation
BRONZE
The Pennsylvania Trust Company
Cypress Capital Management
Dr. Alan and Mrs. Susan Elko
Mr. Steven and Mrs. Ann Hutton
FRIEND of the BARN
Albero, Kupferman & Associates
Mr. Craig Kalemjian
First Resource Bank
M&T Bank
PetCare Group, Inc.
Peter Zimmerman Architects
Rainer & Company
Ms. Sherri Cornish
Dr. Stuart and Dr. Suzanne Levy
Mr. Robert and Ms. Lauren Powelson
Mr. Hal and Mrs. Carol Wingerd
KMRD Partners, Inc.
Umbreit, Korengel & Assoc.
Thomas Cichocki, Morgan Stanley
Communications Test Design, Inc.
Lamb McErlane, P.C.
Stradley, Ronon, Stevens & Young
Amy & Patrick Conrad
Jeffrey & Julie Drobish
John Milner Architects, Inc.
BeneServ