Testimonials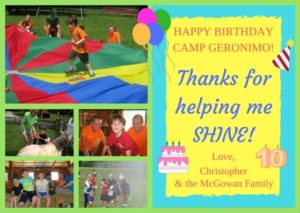 "Ethan lights up talking about The Barn. Every session must end with bunny cuddles. It has brought him so much joy and helped him engage more with his world."
"Spring Brook Farm is Rachel's version of heaven. She feels accepted here and is invested in making The Barn a vibrant community. Her communication skills have truly matured at The Barn over the past several years. She can't wait to come back!"
"Our son Cody has shown improvement in waiting his turn as well as shown a greater appreciation for animals. We continue to see improvement in his behaviors and he is always excited to come to The Barn."
"I cannot put into words what horses do for my daughter, unless you see the actual process. She is calmer, her breathing is regulated, she smiles nonstop, she is channeled, she is better at regulating her emotions, and she is able to be redirected to a task without meltdowns. She has no fears of separation from her parents and is actually proud to be on her own.   
We found Spring Brook Farm and instantly she was in her element. She wants to do more than just walk the horses and give them treats; she wants to work. She tells everyone that on Mondays she works at Spring Brook Farm; she doesn't go to play, she works. Gwen struggles to focus or just relax, and when her therapists try to work on this skill she fights them, and it results in massive outbursts. At The Barn they are able to use grooming to help keep her to attending to a task. They teach her the proper way to groom and without her knowing she is improving her ability to focus. While she mucks stalls she is actually doing therapeutic heavy work, which is what every OT and Doctor she has ever seen wants her to do, however she doesn't realize this.
Gwen gets formal riding lessons, and receives therapeutic riding but at Spring Brook Farm she gets all the aspects of working at a barn while working on skills her Doctors and Therapists all struggle to get her to complete. In her mind she is helping to care for the animals, which gives her great pride, but the animals are helping her to improve her.
The happiest moment for me was when Gwen asked me to leave The Barn so she could work. My daughter, who panics so badly we have to rush her to the ER when I leave her, asked me to leave. I actually cried tears of joy over the request. We have made little to no progress with her anxiety because of her young age. Spring Brook Farm, staff and volunteers have made more progress in less than a month then people with Doctorates. Their impact is priceless for our family; we are forever blessed and thankful."
"Our daughter, age 7, has participated in Spring Brook Farm programs for almost 3 years. Alannah was diagnosed with Autism when she was 3 (PDD NOS ADHD).   The associated lack of social skills and delayed communication abilities make it difficult for her to develop and maintain friendships. We wanted to utilize her love of animals in a program that would allow her to develop in these key areas.   Spring Brook Farm has provided us with a safe and nurturing environment allowing her to develop bonds with her volunteers and all the animals. She is now able to express her feelings and emotions with greater clarity and has developed more confidence in initiating and maintaining a conversation due to her participation in Spring Brook Farm programs (summer camps and one-on-one sessions with a volunteer). At the end of each session she is eager to tell us what she did and which animals she cared for (walking, grooming, feeding, etc.). Her experiences at Spring Brook Farm provide conversation topics with her peers. She will seek out individuals who want to hear about the animals and scavenger hunts in the woods and meadows.   We are simply overjoyed with her progress and are extremely thankful to Spring Brook Farm for providing programs that provide developmental opportunities that are so much fun and educational for our daughter."
"Micah has not been at the Farm except for summer camp in the last 2 years. He used to go every week. It is the very first place that Micah felt accepted and loved away from our home. He learned to talk to the people there and had his very first friendship there with Dusty the bunny. He learned to let the bunny come to him. He learned how to feed him a carrot. He learned to quietly talk to him to get the bunny to come near. They were friends. When he did not see Dusty the one week, because Dusty had died, he was upset. He came to me and cried as I told him that Dusty had died and God was now taking care of him. He cried because his friends were gone. Words were coming out of his mouth. His grief was causing him to speak. His sadness caused his words. Dusty did some great things for Micah. He became his friend and through his grief got him to communicate his sadness. I thank the barn as they worked to get him bonded to other animals. The people there were great. He is too old to come every week now, but did get to go to camp this year and loves every minute of it. Thank you."
"Volunteering at the Barn has been an amazing experience. It gives me a real opportunity to contribute my time to the worthwhile cause of helping animals and becoming aware of their needs. For instance, while cleaning out a horse stall this past summer we noticed that the horse's water supply was running dangerously low. I helped refill the horse's water bucket—a job that absolutely needed to be done–and then checked the water levels in the remaining stalls. This is just one example of how the Barn allows me to contribute to the workings on the farm in a way that is genuinely helpful—allowing me to feel able, and not disabled.
Initially the activities and jobs at the Barn were way outside of my comfort zone because I didn't think my body was coordinated enough to do them. Through hands-on work, such as mucking stalls and washing tools, I've noticed an improvement in my coordination; because these jobs are connected to the caring of the Barn's animals, I feel motivated to try hard and do my best. After a little over a year of volunteering, I still find myself being pushed out of my comfort zone—many tasks are still physically difficult—but I'm learning and I'm determined.
I also never realized how much I would enjoy the company of animals; I knew horses have a lovely calm energy, but I didn't know how to read or predict the behavior of the other animals. Spending time with them and observing, it's becoming easier to understand them—often easier than human beings because they mostly communicate physically and I don't have to process talking! The different textures of their fur, hair, wool, and mouths have also taken time to get used to because of my sensory sensitivities. I've found the goats are a lot of fun and I really enjoy their playful and mischievous personalities. (Sheep, on the other hand, almost move and react as a group, so it's harder to get to know them.) One of my favorite things to do at the Barn is to feed animal crackers to the goats at the end of my shift. I hold treats in my fingers and they greedily, but carefully, lap them up in a way that tickles my fingers and my emotions.
I'm so thankful that I have this opportunity to participate in the program that's offered by the Barn at Spring Brook Farm. The staff and volunteers have been truly great; I feel connected to them and look forward to working with them. Ed, my Barn volunteer, is gentle and patient, and (like me getting used to the animals' behaviors) has learned about my autism and how to guide me to perform better, as well as how to work with my staff assistant when I need hand-over-hand assistance to learn new skills.
I can't wait to come back in the spring!"
"When our son Trevor was born, we had so many things planned for him. All the things parents visualize, making new friends, playing on a team, taking trips together and maybe even getting a cute little dog for him to be his buddy. And, as with all children, things almost never go as planned. Trevor was diagnosed with a pervasive development disorder before he was 24 months, and then by 4 years old, he was diagnosed with Autism. All the ideas we had, turned out to be the biggest challenges for our boy. Trevor could not speak, did not respond to social cues and was completely terrified of animals.

When I began to search for Summer camps to improve Trevor's social skills, I attempted the mainstreaming method, and found a regular day camp that placed him with "typical" peers for 4 Summers. Last year, Trevor was asked to leave that camp due to his different behaviors. I immediately set out to find a new program. I was overwhelmed by the lack of camps for kids with disabilities, let alone one that would understand his differences and provide the support he needed. Trevor's Behaviorist at the time, was convinced any outdoor "open space" program would not go well for him.

Last Spring, I found Spring Brook Farm online. We signed Trevor up immediately and began visiting with him so we could prepare his "visual" story and expectations. Trevor was first drawn to the tree house, a beautiful small open fort tucked away behind the barn, up in the trees, with sweeping views of the green fields there. He was happy just to stand there and look at the scenery for some time. We thought he might stand in the tree house all Summer. He first showed great apprehension with the barn, full of animals, making new, strange noises. He would refuse to pass through the center, open to all the stables. His first week of camp, he would not join all of the campers for the daily hayride up to the barn. Instead, walking up the driveway with his counselor and volunteer. Patiently, they allowed him to do things in his own time.

Gradually, he tried new things. He painted a pony and helped to wash it clean, keeping a little distance for himself. He walked a pony too, keeping his space. By the middle of Summer, he was inside the donkey stall with a staff member to pet the Donkey, Sugar. He went in the stall with 5 sheep and pet each one. By the end of Summer he had regularly joined the campers for the morning hayride. He could also tell us the names of every animal in the barn!

We visit weekly now, feeding the animals, and walking the ponies, side by side, in the animal assisted activities program.  Each week his visit to the barn is the most anticipated day of the week. Our arrival starts with Trevor running down the hill and through the barn to greet all of his animals, and of course a "Hi Laura" as he passes by the office.

At 8 years old, Trevor has made the most progress at Spring Brook Farm, he has really 'come out of his shell' so to speak. We are overwhelmed and mystified with the power that these animals have with our special boy. I cannot express the level of gratitude we have for the staff and all of the volunteers and their dedication to this special place and these kids. So much of Trevor's life has been spent discussing what he cannot do, it is wonderful to find a place that celebrates what he CAN do! The community at Spring Brook truly see the individual, and not just the disability."
"Adam attended two weeks of camp in the summer of 2014 and one week this past summer.  He has really enjoyed his time at camp and was so happy each morning when I dropped him off.  From my perspective, as a parent, the beautiful environment, kind and caring staff and volunteers and the variety of fun, therapeutic activities planned, makes me so grateful that we have this option for him to attend this camp.  
In 2014, at the end of each week, Adam was given a DVD that was a musical montage of his week at the camp.  He asked to watched these DVDs daily for a few weeks after camp ended and still watches them from time to time.  I'm so happy that he has formed special memories of the time he was at camp.  This year, he loved the visit from the fire fighters and of course, painting the miniature horse. 
We look forward to Adam attending next year!  I've attached one of my favorite pictures of Adam takes in 2014 at Camp Geronimo."