Camp Geronimo
2023 Camp Geronimo Camp Registration NOW OPEN!
Camp Geronimo 2023 will be held during the following weeks, Monday through Friday 9AM to 2PM:
Week 1: June 19 – June 23
Week 2: June 26 – June 30
Week 3: July 17 – July 21
Week 4: July 24 – July 28
Week 5: July 31 – August 4
Week 6: August 7 – August 11
A Day at Camp Geronimo    
Your child's day will start as they take part in a wheel-chair accessible hayride around The Barn's 17 acre property. They will then head into The Barn to meet their camp counselor for the week.
Throughout the morning, campers will engage in animal-assisted activities with The Barn's exceptional animals—miniature horses, goats, bunnies, a pot-bellied pig, and more. Physical activities and games are next. Whether your child is kicking around an enormous soccer ball or body bowling in the barn's loft, he/she will be having fun.  A short snack period is followed by physical and gross motor activities and a variety of arts and crafts.
Campers eat a brown bag lunch in our nature center adjacent to our handicapped-accessible tree house equipped with sensory stimulating challenges. Later in the afternoon your child might play with a large, colorful parachute, run through sprinklers to cool off, tend to our raised vegetable and flower beds or participate in music therapy.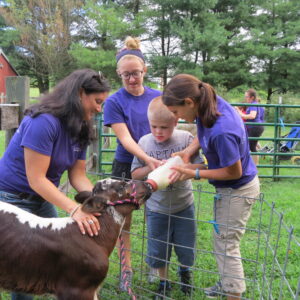 A Day Camp for Children with Disabilities
Camp Geronimo is for children ages 6—12 years. We work with children with physical disabilities, children with Autism Spectrum Disorder, and children with other special needs. Our barn is completely handicapped-accessible and our staff is trained to work with children of all abilities.
At The Barn, our focus is on the unique connection between animals and children and their special love for one another. Interacting with animals provides campers with matchless motivation to participate in sensory and  physical activities. Whether it's feeding a baby calf from a bottle, milking a cow, or grooming one of our miniature horses, we guarantee distinctive and memorable experiences for all campers!
One-to-One Counselor to Camper Ratio
The one-to-one counselor to camper ratio ensures that all children can take advantage of the full range of activities and be safely supported throughout the day. Campers' special needs are accommodated by an on-site nurse.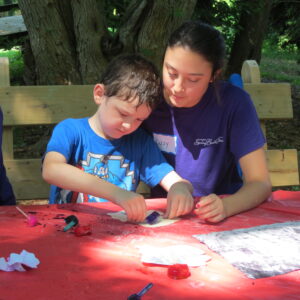 Cost per week at Camp Geronimo: $500
Interested in participating? Tours and more information are available by contacting us.